Businesses have greatly adopted mobile applications to stay connected with their users. Developers use app tools for building mobile apps for a specific business, company, or firm. These applications are intended to serve a specific role for the customers.
What are mobile application development tools?
A huge population owns mobile phones. Hence, businesses must have their applications and, more specifically, mobile applications. It's pretty easy to build one. But with so many application development tools, it's hard to choose the best. Before getting into the best app development tools, Let's understand a mobile app. A mobile application is a software designed for smartphones or tablets intended to serve a specific function.
Mobile applications provide the users with the same services as on a PC, for instance, online banking. Now, let's explain mobile application development tools. A mobile app development tool is software that gives the mobile app developer the freedom to build an innovative and scalable application for mobile. App development tools enable users to integrate the appropriate resources freely with hardware for enhancing productivity.
Top 7 mobile application development tools in 2022
With the ever-changing world, competition has also risen in every sector of life. A huge population owns mobile devices. Hence businesses must build a successful mobile app. For this purpose, mobile app developing tools are necessary. Numerous tools belong to different categories and are distinguishable based on their features. This section will introduce the top 7 best app development tools of 2022. Let's dive into the details.
1.    Xamarin
Xamarin is a cross-platform development tool preferred for native apps and is based on a mono framework. Developers can build native UI components due to IOS and Android quick-start. Third-party and cross-platform libraries, as well as UI controls, are included in the Xamarin Component store. The tool is characterized by faster market time and produces lesser bugs. The one-size-fits-all programs with HTML aid developers and end-users. Moreover, the native-interface characters help the developers fulfill any customer demand. Xamarin SDK was launched in February 2016 when Microsoft acquired Xamarin.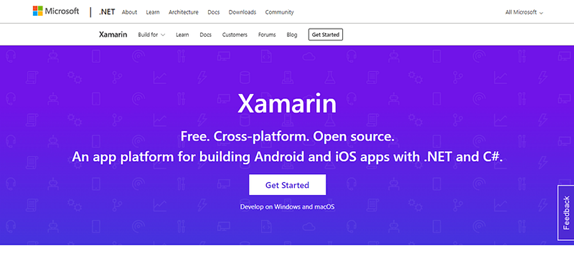 2.    Ionic
Ionic utilizes the HTML 5 mobile app development framework for creating hybrid apps. Web technologies such as CSS or HTML 5 are globally used using this tool to build mobile apps. It is an open-source project and contains all the tools for creating an interactive app. Ionic constitutes many CSS and javascript components to develop mobile apps. Developers can create apps using ionic with a single base code for all major app stores. One must consider this tool in terms of support, third-party access, and speed because it helps develop hybrid apps. Hence, it can be concluded that hybrid apps are better than pure native apps.
3.    Longrange
Longrange is a native mobile app development tool comprising several components. They include form views, navigation, tabs, and commands and require long service installation. It is fast and reliable to use. By using RPG/CL with DDS, native mobile apps can be developed without CSS, HTML, or JavaScript. After being written, they can be compatible with IOS or android mobile devices. They trigger "push app notifications" in the device and use the smartphone's camera, GPS, SMS, etc. the maintenance and deployment of mobile apps are no more expensive with the Longrange tool.
4.    Alpha Anywhere
Alpha Anywhere is a swift mobile app development and deployment tool with distinctive low-code and no-code components. Business and cross-platform mobile and web applications can be built using this tool. It is loaded with advanced data integration and transformation, back-end data access, and pre-built prototype apps. These apps can be edited, or developers can refer to them for app development. Cross-platform tools are effective for creating mobile applications. Most commonly, business users and developers use the no-code component. The low-code feature is used for creating intricate web or smartphone business apps.
5.    KendoUI
KendoUI is an end-to-end app development tool for mobile apps built upon modern web standards. It gives greatly modular app development solutions used for developing cross-platform web applications. The tool is compatible with AngularJS and can be easily used by javascript developers. Convenient data-binding for local and remote data is easy because it allows the JQuery data source component.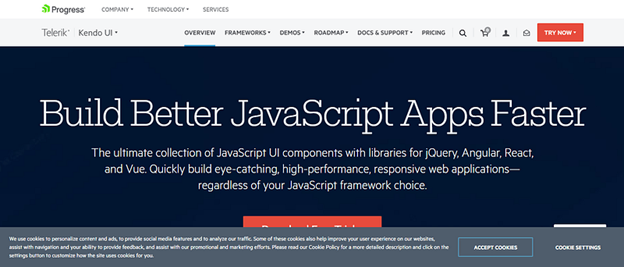 6.    Swiftic
An iPhone App Development tool, swiftic, is easy to use for creating an app due to its various features. A business can create a custom app and then publish it on popular stores using this tool. Moreover, customers can interact by sending emails or calling. It also allows push notifications to grab the attention of users. The tool is characterized by amazing options such as scheduling, catalogs, branches, menu and order, quick communication, client engagement, etc.
7.    Android Debug Bridge
Adb, a command-line tool, is characterized by its versatility. It enables you to communicate with the device. Several features of this tool, such as debugging and installing apps, access to a unix shell, etc., ensure the running of various commands on the device. Android debug bridge is a client-server program built upon three elements. A client, daemon, and server. The client is the one who is giving commands. Daemon aids in running commands on the device. At the same time, the server acts as a bridge of communication between both.
What does a mobile app developer do?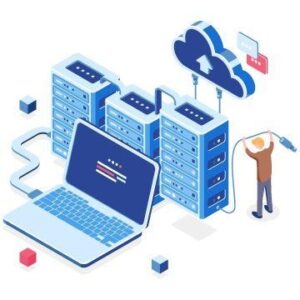 In simple words, a mobile app developer is the one who develops a mobile app. They can be thought of as software engineers. Hence, their major role is to create, test, and program apps for smartphones, tablets, and computers. The job of development is based on teamwork. A professional team collects ideas and concepts to create something for the public or build something based on specific customer requirements. These software engineers often work with data scientists and graphic designers while also familiar with the language of coding.
The major part of their job is testing, which is concerned with removing bugs before launching the application. Companies, firms, and other businesses research to determine customers' needs. It is then passed on to the mobile app developer who develops an application. After launching it, the developers periodically release upgrades to the masses. The job is based on several skills such as problem-solving, decision making, minute details, creativity, technicalities, communication, and analytical skills.
What are the best mobile app development tools Estop solutions use?
Estop solutions offer the best mobile app development services because they use some of the best tools to accomplish their goals. The services provided include Android app development, IOS app development, react native app development, and flutter application development services. The developers and other technical staff are experienced and learned. They focus on a highly detailed procedure for favorable results. The major steps of the process are research, proper planning, developing, testing, and maintaining. Such a process has resulted in a trustworthy platform fulfilling their customer needs appropriately.
Conclusion
The top-notch tools of 2022 for building applications for mobile are explained in the blog