Mobile application development is a complex and challenging process of creating an app for hand-held devices such as smartphones. Applications are built for thousands and millions of devices by developers targeting both platforms i.e. Android and iOS.
What is mobile application development?
Mobile application development entails developing software for hand-held devices such as mobile phones, most probably for iOS or Android. The application may be preinstalled on the device, downloaded from the app store, or accessible through the smartphone's web browser. The process is rooted in conventional software development. Still, the major difference is that mobile applications are created for users to benefit from specific features specifically for the mobile device. For instance, a smartphone app related to health may be created to benefit from the smartwatch's temperature sensor.
Currently, IOS from Apple and Android from Google is the most popular mobile platforms. Both have many similarities, but both require different software development kits and development toolchains for mobile application development due to slight differences.
The complete process of mobile application development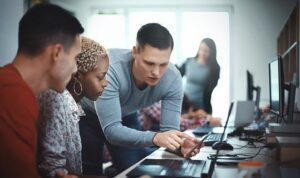 The complete process of mobile app development is a bit complicated. You must ensure your app fits the niche, customer, and market requirements. The process, therefore, comprises of crucial steps, stated hereunder:
1. Research and identifying objectives
Research is the initial and crucial step of the process. Deep research must be ensured into one's business, competitors, and target audience. Several questions must be formulated to identify the particular app's objectives. Following are the most important questions:
What is the target audience?
Does the app fit the marketing plans?
Which platform, app development language, and framework will be used?
What will be the marketing and promotion plans?
When will the app be launched?
What do you want to achieve by this application development?
What are the already created apps similar to what you want to create in the market? How do they work, and what are their drawbacks?
This step is based on teamwork. Firstly, the required team must be available. Hiring is the solution if the team lacks a developer, a marketing person, or other members. After that, the app development team and other departments such as marketing, IT, product development, etc., must work together to do thorough research. An informed approach will lead to a smooth and successful process.
2. Prototype and its testing
After brainstorming, research, and strategy formulation, a design must be created. So, for this purpose, prototyping can be done using specific tools such as Balsamiq, InVision, or any other similar tool. This step comprises creating the design, security, usability, performance, etc., based on customer needs and experiences. It is a significant step since it combines your ideas into a functional form. Prototyping is an evaluative step and also aids in gathering feedback and also in identifying any flaws while using the application. People other than the team are made to interact with the app and gather honest reviews. UI/UX is best for resolving any detected issues at this stage. This way, a high-fidelity prototype is produced, the foundation for a successful mobile app development process.
3. Planning a strategy
Planning is a significant step. It is done keeping in mind a few aspects. A strategy must be formulated so that all the necessary features in the app that you have found effective in achieving the objectives. At the same time, the marketing strategy must be kept in mind. Moreover, if the app is designed for one of the app stores, then the required licensing agreements, design, and testing criteria should be considered. Moreover, the strategy must be in accordance with the team's research.
4. Sharing the app
After creating the prototype, it is distributed among the investors and stakeholders. Further testing and refining are based on their reviews and feedback. Further testing is based on functionality, performance, and navigation check. Once all these steps are carried out, it's time to dive into the next step.
5. Beta testing
Beta testing is done before deployment. In this step, the app is sent for official beta testing. It comprises various rounds of reviews among the users. This way, a deployable version of the app is created.
6. Final step; deployment
After passing all the tests, finally, the app is ready to be deployed. At this instant, interactive methods should be adopted, and proper marketing must be done. A proper platform must gather user feedback and provide continuous support.
Challenges faced during mobile application development
With the ever-changing world, the challenges in any process equally increase. The digital world offers certain hurdles for achieving the desired goals. Application development also has some challenges that need to be overcome. This section will discuss the common issues developers face on this digital path. The most common hurdles include the selection of the wrong team, insufficient funds, lack of innovative ideas, issues of compatibility with devices, incorrect accessing and development directions, to name a few.
Similarly, lack of productivity and performance can lead to bad user experiences. Poor marketing can also lead to a flop application and worse user feedback. Unsuccessful architectural patterns and outdated technology can also cause failure.
Does Estop Solutions offer application development services?
Estop solutions are all here to provide the best application development services. This platform's mobile application development services include Android app development, IOS App development, react native app development, and Flutter app development services. Our specialized team is focused on a detailed process based on research, planning, development, testing, and maintenance. These steps ensure outstanding customer feedback and desired outcomes.
Conclusion
The application development process comprises certain steps such as research, strategy planning, creating a prototype, testing it, sharing the prototype, beta testing, and finally deploying the app.