Link building is one of the most effective methods for website SEO optimization. If you want your website to rank in Google, you should focus on earning strong and high-quality links.
A link works as a reference. When someone links to your website, it means that you have great content and your web page deserves to rank.
What is Link Building?
Link building is the method of earning links from other websites. It helps search engines recognize your website as an authority and refer it to others. Google has stated that the two most important factors for ranking are great content and backlinks!
Backlinks, also called inbound links, are crucial in making your website popular. They help in building the trustworthiness of your website. The more backlinks you receive the better your pages will rank. And your overall organic traffic will also increase.
Here are the most used link-building methods that will help you rank higher in the search results!
6 Best Link Building Methods for SEO that you should try
Building genuine relationships
Link building is not always an easy task. But joining a community with people from your industry can help a lot. Invest in building genuine relationships with your fellow bloggers. Help them by linking to their site. And in return, they will be happy to do the same for you. This will benefit everyone in the community and will have a positive effect on your rankings.
Forum posting platforms such as Quora can help you join your niche-based communities. Another way is to join social groups and help people who post their queries.
Guest posting
Article submission or guest posting remains a very effective method in link building. You have to create high-quality content in your niche, add links to your site and submit it to other websites (in the same category) to publish. But you have to make sure that you are adding links naturally.
The most important thing that your guest post contains is not the links. It is the reputation of your website. High-quality, value-filled content attracts more people than the one stuffed with links. The quantity of links also matters. Try to keep 5-6 links at the maximum per 1000-word post.
Aim to get Editorial links
Editorial links are the most valuable links. These links are not requested or acquired. It is when people link to you because of your great content. Editorial links demand value-filled content.
For this link-building method, you have to invest in creating high-quality, value-filled content that helps people to make a decision or ascend from point A to B. The best way to get an editorial link is by building a content strategy and creating pillar content. You can't tell when you will receive a backlink with this strategy, but whenever you do, it will be much more impactful than a manually built link.
Ask your friends for backlinks
This strategy works best if you are a beginner or have a new website. If you have friends who own a blog or a website, ask them to give you a backlink. If not, you can go to social media platforms, like LinkedIn, connect with people who have a website in the same niche as yours, and request them for an in-content link.
But make sure that you are getting the links from authentic websites. Irrelevant links appear spammy and result in the penalization of a website.
Reciprocal linking
Reciprocal linking refers to the exchange of links between two websites. This method is mostly used by sites covering the same topic or selling the same service. Some people think that it is a bad practice that affects website SEO. However, that is not true.
As long as you are creating in-content links that help the user understand it better, you are good to go. But excessive use of reciprocal linking just for the sake of adding links can result in limiting your reach.
Web directory links
As a new website, you have no authority or reputation. Thus, it makes earning a backlink very hard. But that is where web directories come in. Web directories are websites that let you submit your website URL to receive backlinks. This link-building method can help you get your first few backlinks.
Submit your website to trustworthy niche-related directories. Such directories have other informative websites listed as well. This is a great way to build a strong foundation for your website!
Why is Link Building important for your website SEO optimization?
Link building is the main factor for ranking after content. You can not skip this one from your SEO optimization strategy. When ranking web pages, search engines check the quality and quantity of links that point toward your website. If the links are authentic and valuable – your content ranks. However, if the links appear spammy and unrelated – you can get in trouble. Links are also critical in increasing your reach and traffic. With High-quality backlinks, you can build the
Do Estop solutions offer Link Building services?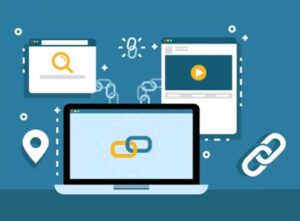 Yes, at Estop solutions we do offer our clients link-building services. We aim at getting relevant quality links to get your website the vote of confidence on the search engine.
Our team has experienced link-building experts that have worked on various projects to help businesses acquire the top ranks in the SERPs. We use different link-building strategies to increase their website credibility, visibility, and authority.
Estop solutions are the one-stop agency for all your digital barriers at an economical rate. Feel free to contact us for any guidance regarding your website's SEO optimization and our team will be at your service!
Conclusion
These are the tried and tested link-building methods. The key takeaway is that content remains king. No strategy will work if your content is not up to the mark. But as a new website, you can acquire those first few links through these methods. Your goal must be to get a few high-quality links rather than hundreds of irrelevant ones. Remember,
High-quality content + focused search intent + in front of the right audience = LINKS